Vacuum Drying for Industrial Mixing Equipment
Vacuum drying has existed for over 50 years as an effective method of drying materials utilized in various industries. Plow mixing with vacuum dryers has given many companies a competitive advantage. On average, some companies have seen drying speeds increase by more than 400 percent versus a ribbon blender drier combo and upwards of 500 percent verse a tumble drier.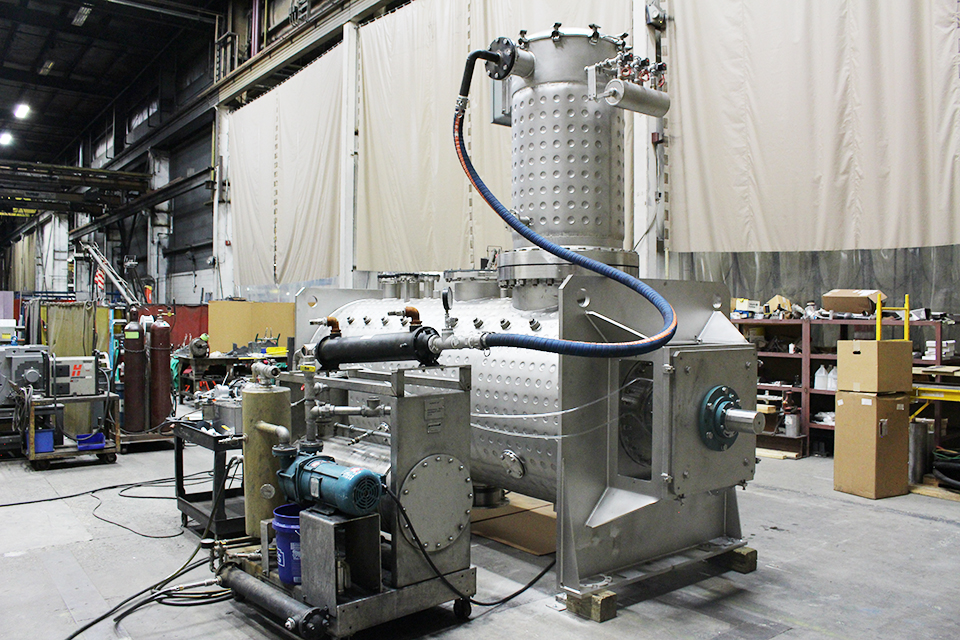 Processall's plow mixer and vacuum dryer technology give manufacturers a leg up on the competition. Below are some benefits of moving toward plow mixing technologies for vacuum drying applications:
High heat transfer rate because of creating a fluidized bed within the drying vessel.
The vessel jacket allows different media (hot oil, steam, or tempered water) to be used depending on the thermal sensitivity of a product.
Vacuum dryers lower the vapor pressure of the liquid, facilitating quicker solvent drying times. It also allows for the collection of volatilized liquids.
Mill breaks up clumps and can be used for defining particle size.
Thermal jackets to allow for optimal temperature controls.
High-speed mix can handle materials as fine as dried oats without damaging the material.
Easy to scale up and predict drying times after lab testing to determine the required horsepower of the motor needed.
Vacuum dryers provide the ability to sterilize and pasteurize various materials.
Vacuum drying capacity to effectively remove water or organic solvents from the material.
Spray nozzles to add additional chemicals if needed to aid in the drying operation.
Vessels can additionally be outfitted to increase versatility:

Mechanical seals – will allow the vessel to be pressurized and reach a low vacuum (28 Hg).
Liquid lances – allows media to be sprayed onto a substrate and continually dried until optimum fill level.
Potential Plow Mixing Vacuum Drying:
Nutraceuticals
Pigment press cake drying
Mining applications
Sterilizations and Pasteurizations
Baking and food applications
Flavor Extraction
Extraction of Hazardous Chemicals
Specialty Adhesives drying
Productions of animal feeds
Waste treatment
Chemical Intermediates
Battery Manufacturing
And many more
Processall maintains a fully equipped testing facility in Cincinnati, Ohio. Engineered to provide customers with the data they need to develop their process, evaluate equipment, scale up, and identify the necessary equipment to maintain desired production volumes. We invite all potential customers to bring their products to our test center and get a "hands-on" experience with our technology and capabilities.
We also maintain a rental fleet that customers can utilize to do further testing at their facility or to minimize their startup costs for a new process.
Contact us with all your material processing questions, and our experienced industry professionals will help you find the right industrial mixing solutions for your particular application.