The Processall Tilt-A-Mix Laboratory processor is a rugged, flexible, and sanitary plow mixer / vacuum dryer / material reactor of patented design
The Processall Plow Tilt-A-Mix laboratory mixer is unique in that it combines many of the features available in our Mixmill mixers, but in a small, mobile package amenable to many lab environments. The Tilt-A-Mix comes in 4, 10, 20, 40, 60 and 90 liter sizes and all have mobile stainless steel bases.
         Features:
Completely removable agitator blades
(except for heated shaft designs)
Removable heads on 4 liter and some 20 liter units (20 thru 90 liters have hinged discharge heads)
Sanitary S-Clamp and I-Line connections on charging and discharge ports
Patented Tilt-A-Mix tilting feature
High speed "chopping mill" for de-lumping or size reduction
Equipped with stuffing boxes, air seals, or double faced mechanical seals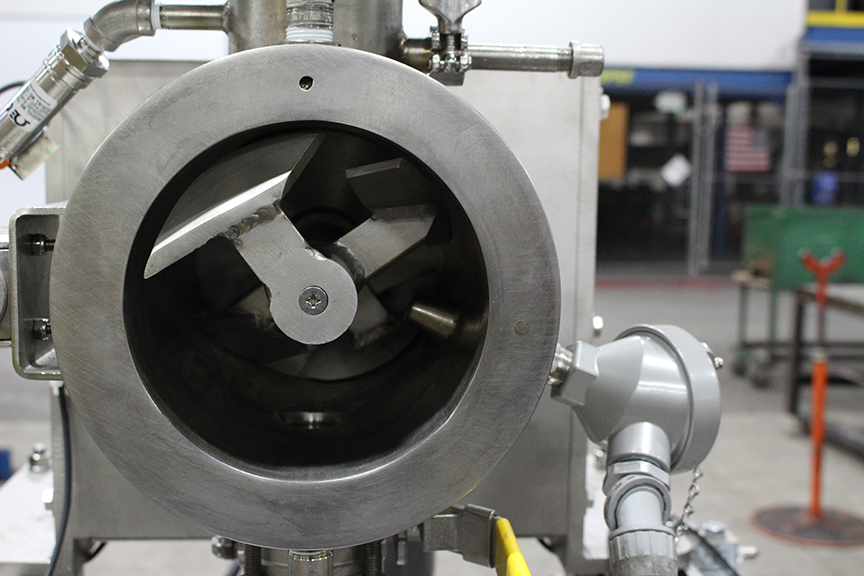 The patented Plow Tilt-A-Mix feature allows the mixer to be rotated to a vertical position to facilitate loading through either an open front-end or the discharge port. After loading, the machine is tilted to a horizontal position for processing. After processing, the drum then tilts down 20 or more degrees for discharge. The large units (20 liter and above) can be equipped with a power tilt to assist in movement. The smaller units (1, 4, 10 liter) have detachable drums that can be taken to a sink and cleaned. All units are equipped with 75 PSIG stainless steel jackets for heating or cooling. Standard product surfaces are 316L stainless steel with all other stainless and nickel alloys available as options. All types of instrumentation and control packages are available.